About Us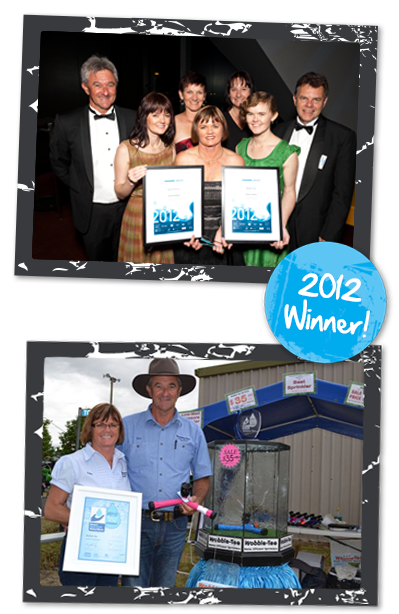 Wobble-Tee is a 100% Australian owned, family operated business and we are proud to say that our products are 100% Australian made. Our many injection moulding tools that make the various components of the Wobble-Tee and Clever Drop sprinklers were designed and built in Adelaide. These components are moulded in Adelaide and Sydney, then assembled and dispatched to hardware stores all over Australia by the Wobble-Tee team in Lake Macquarie.
The Wobble-Tee sprinkler was first created by designer, Tony Holmes, in 1998. Over many years it has been developed and improved to become the product you see on shelves today. In 2012 our years of hard work was nationally recognised when the Wobble-Tee sprinkler won the Smart Approved WaterMark Product of the Year Award for its water efficiency and good design. Also in 2012 the Wobble-Tee was a finalist in the savewater awards for product innovation. Based on the design and success of the Wobble-Tee sprinkler, Tony Holmes and Kathy Holmes combined new ideas and developed the Clever Drop Sprinkler in 2012.
The Clever Drop has the same desirable watering qualities of the Wobble-Tee, but with a much smaller watering diameter aimed to suit gardens and small lawn areas. Wobble-Tee attends a variety of field days and home expos across Australia each year to promote our sprinklers and encourage customers to be water wise. Follow us on Facebook to find information on upcoming events where you can meet our team and discuss your watering needs."
Due to COVID-19 Wobble-Tee are not able to attend any field days.